Swami Chetanananda is a tantric master in the Shaiva-Shakta tradition. He is a teacher in the lineage of Bhagavan Nityanananda of Ganeshpuri, India, and Swami Rudrananda (Rudi), of New York City. He is the founder and abbot of The Movement Center, a nonprofit organization and spiritual community based in Portland, Oregon.
Born in Kentucky in 1948 and raised in the Midwest, Swamiji met his guru, Rudi, during a trip to New York City in 1971. The impact of that encounter changed the course of his life. After spending several months with Rudi, he returned to Bloomington, Indiana, to set up an ashram–the community that has become The Movement Center. He began teaching Rudi's eyes-open meditation practice and very quickly gathered a core group of students around him. Swamiji continued to study with Rudi until Rudi's death in 1973, when he took on the responsibility for continuing Rudi's work and directing the numerous ashrams Rudi had established.
Following Rudi's death, Swamiji turned to Swami Muktananda to continue his study. He took sannyas with Swami Muktananda in I978 in India. At the direction of Muktananda, he began to explore the teachings of tantric Shaivism, a nondualistic system. By the early 1980's, there was an active translation project for Shaivite texts at Nityananda Institute, the nonprofit organization Swamiji founded. Today, that work continues through the Institute for Saiva and Tantric Studies , under the direction of Professor Alexis Sanderson.
Shortly after taking sannyas in 1978, while teaching open-eyes kundalini meditation class in Bloomington, Indiana, Swami Chetanananda had a profound visionary experience of the Goddess Tripurasundarī. Swamiji reported this experience to Swami Muktanananda, who  advised him  to study goddess practices in the Śrī Vidyā lineage and the Śrī Chakra sadhana.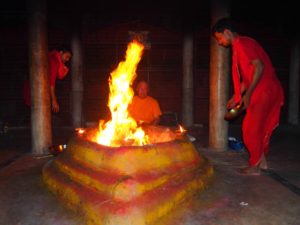 Swamiji has studied with the temple priests at the important Śrī Vidyā śaktipīths (places of power) of Mookambika Devi Temple in Karnataka and at the seat of the Shankaracharya, the Adi Kamakshi Amman Devi Temple, in Kanchipuram. Since 2007, Swamiji has practiced the tantric version of the Śrī Chakra sadhana with tantrikas and priests in periodic retreats at the great śaktipīth at Kamakhya Temple, in Assam, in northern India. It remains his primary personal practice.
In December 1997, Swamiji met Lama Tsering Wangdu Rinpoche, who is now head of  Pal Gyi Tingri Langkor Jangsem Kunga Ling, a monastery in Kathmandu.  Recognizing the strength of Swamiji's inner accomplishment, Wangdu Rinpoche asked Swamiji to take over as lineage holder of his Pacification of Suffering lineage of Padampa Sangye and to preserve and carry on his work as a practitioner of Chöd. Swami Chetanananda received his official Dharma lineage holder consecration ceremony from  Wangdu Rinpoche in April of 1999 in Kathmandu.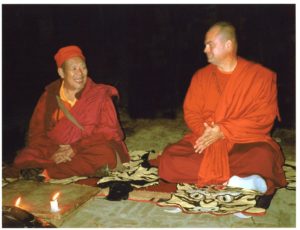 Since meeting Rinpoche, Swamiji has immersed himself in the learning, practice and teaching of Chöd and the practices of the Padampa Sangye Pacification of Suffering lineage. He and Wangdu Rinpoche together conferred the first Chöd empowerment in the lineage in the United States in Portland, Oregon, in 2000. Since, they have together conferred many empowerments and teachings in Tröma Nagmo, Vajravārāhī and Marchungma of the Padampa Sangye lineage, and in the Queen of Great Bliss sadhana of the Longchen Nyingthig.
Swami has supported Wangdu Rinpoche's residency in the United States, sustained an active practice and teaching program of the Padampa Sangye  and Chöd lineage teachings at The Movement Center, and funded the translations of the key lineage texts including, The Mahamudra of Machik (a 17th century collection of 22 texts on Chöd practice), Padampa Sangye's Treasury of Instructions (a 13th century collection of 21 sadhana texts of Padampa Sangye), The Nectar of the Heart: The Essence Teachings of Padampa Sangye, and Padampa Sangye's Mahamudra, published by Snow Lion as the book The Lion of Siddhas in 2008.
In 2004 and 2005, Tsering Wangdu Rinpoche conferred upon Swami Chetanananda the entire Padampa Sangye lineage sadhana practices and empowered him to teach and empower others in these. At that time, Wangdu Rinpoche conferred the dharma name of Ösel Dorje Shonnui Tsal upon Swamiji.
In the course of his practice and study, Swamiji has also spent time with Soto Zen teachers, Sufi teachers, Newari tantrics in Kathmandu, and the Karmacharyas (tantric priests) of Bhaktapur.  One of Swamiji's greatest gifts is his ability to integrate teachings of the various traditions he has studied and extract their essence. He can explain esoteric concepts in terms that make them readily accessible to contemporary practitioners.
In addition to his study of spiritual practices, Swamiji has studied osteopathy with Dr. Rollin Becker, which helped him come to a profound understanding of how kundalini energy manifests as the physical body and the powerful healing potential it has. He has also studied Vedic astrology with Chakrapani Ullal, a friend of Swami Rudrananda's and one of the most renowned Vedic astrologers in the West. He studies QiGong with Dr. Baolin Wu of Santa Monica, California.